Held
ebook
31 Biblical Reflections on God's Comfort and Care in the Sorrow of Miscarriage
31 biblical reflections on God's comfort and care in the sorrow of miscarriage.
Using Psalm 139, Abbey Wedgeworth walks alongside women suffering the heartbreak of miscarriage. Having experienced the sorrow of miscarriage herself, she acknowledges the isolation commonly felt and the impact that such an experience can have on faith.

The 31 biblical reflections in this beautiful and comforting book remind grieving women that God sees them, knows them, loves them, and is actively caring for them. These precious verses will show women that God can bring comfort, assurance, protection, and purpose in the very sorrow that they are experiencing.
Includes personal stories from other women who have had experience of early pregnancy loss, encouraging sufferers that they are not alone.
Contents
31 devotional chapters including reflection and response sections
9 personal stories from writers including Courtney Reissig, Kristie Anyabwile, and Eric Schumacher
4 beautiful Psalm 139 brush script spreads
Short list of recommended further reading
Journaling space throughout
Specification
| | |
| --- | --- |
| Author | Abbey Wedgeworth |
| ISBN | 9781784985516 |
| Format | Digital Download |
| First published | September 2020 |
| Language | English |
| Pages | 176 |
| Publisher | The Good Book Company |
When we lost our baby unexpectedly, silence filled my soul. By the grace of God, Abbey does the impossible in Held by putting words to our pain in miscarriage while offering the hope of the gospel. She guides the broken hearted woman into the endless grace of God.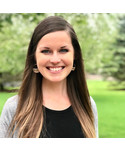 It was no coincidence that Abbey was writing Held when we lost our second baby. The portions of it that she shared with me were a balm to my aching heart. This is a Word-saturated book, tenderly written by a woman who loves Jesus, trusts him, and wants to see many hurting moms do the same. I highly recommend it to you.
I will always keep a copy of Held on my bookshelf to share with mothers enduring the pain of miscarriage. I am abundantly grateful to have a resource that reassures grieving mothers of God's presence, nearness, and purpose, even in the hardest days.