Discipleship Explored DVD
Following Christ. What's it all about?
DVD presentation of the 8 talks for each of the eight sessions of Discipleship Explored, presented by Barry Cooper.
Please note there is a newer version of this title.
Discipleship Explored is a course designed to give you the time and space to think about what it really means to live the Christian life.
This eight-session journey through Paul's letter to the Philippians can be used with individuals or groups of any size to present the excitement, challenge and joy of following Christ. It's ideal for new Christians, or anyone who wants to know Christ more deeply.
This insightful and visually stunning DVD is written and presented by Barry Cooper, co-writer of Christianity Explored. Please note, this DVD is available in NTSC format only.
Note: The DVD content is the same as the 1st edition but the cover has been redesigned to match the revised version of Christianity Explored.
Contents
Episodes:
1. Confident in Christ
2. Living in Christ
3. Standing together in Christ
4. Transformed by Christ
5. Righteous in Christ
6. Knowing Christ
7. Rejoicing in Christ
8. Content in Christ
Trailers
1. Trailer
2. Leader's Trailer
Extras
Specification
| | |
| --- | --- |
| Author | Barry Cooper |
| ISBN | 9781908317469 |
| Format | DVD video (Amaray) |
| Dimensions | 138mm x 187mm x 6.8mm |
| Language | English |
| Publisher | The Good Book Company/CE |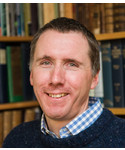 We should watch the "Righteousness in Christ" episode at least once a year because it encapsulates the truth of justification so well and applies it so powerfully.
Discipleship Explored has always been a valuable tool for helping Christians understand what it means to follow Christ. But with this new series of films, along with the accompanying leader's and guest Handbooks, it reaches another level of excellence. The films are a pleasure to watch; Thabiti Anyabwile conveys the meaning of Philippians as he reads it for us, section by section; and Barry Cooper excels as an engaging guide to help us understand Paul's Letter to the Philippians and apply it to our lives today. And all this comes with a wonderfully international flavour to both the locations used and the Christians who make cameo appearances. If, after using Discipleship Explored, you don't love Philippians and want to grow more like Christ, you may be spiritually brain dead. The only downside is that it may make you impatient for this team to do the rest of the New Testament!
"Excellent material and good value"
The discipleship material is excellent and complimented our study of fruits of the Spirit.
"Excellent material and good value"
The discipleship material is excellent and complimented our study of fruits of the Spirit.